As of 2015, there are more than 2 million videos of cats on youtube that have been watched over 25 billion times; these stats speak for themselves, people really love their cats.
So, when it comes to taking care of their rambunctious feline friends, pet parents are looking to CBD as the newest plant-based alternative. With a lot of CBD being marketed towards dogs exclusively, let's take a closer look at how CBD can be a wonderful option for cats, too!
In this helpful CBD guide for cats, we'll help break down:
What is CBD?
Cannibidiol (CBD) is a chemical compound derived from the hemp plant that has become most popular for its plant-based ingredients that help to support healthy inflammatory function a state of relaxation.

All CBD products must have below .3% tetrahydrocannabinol (THC), another naturally occurring chemical compound in hemp that produces a "high" feeling.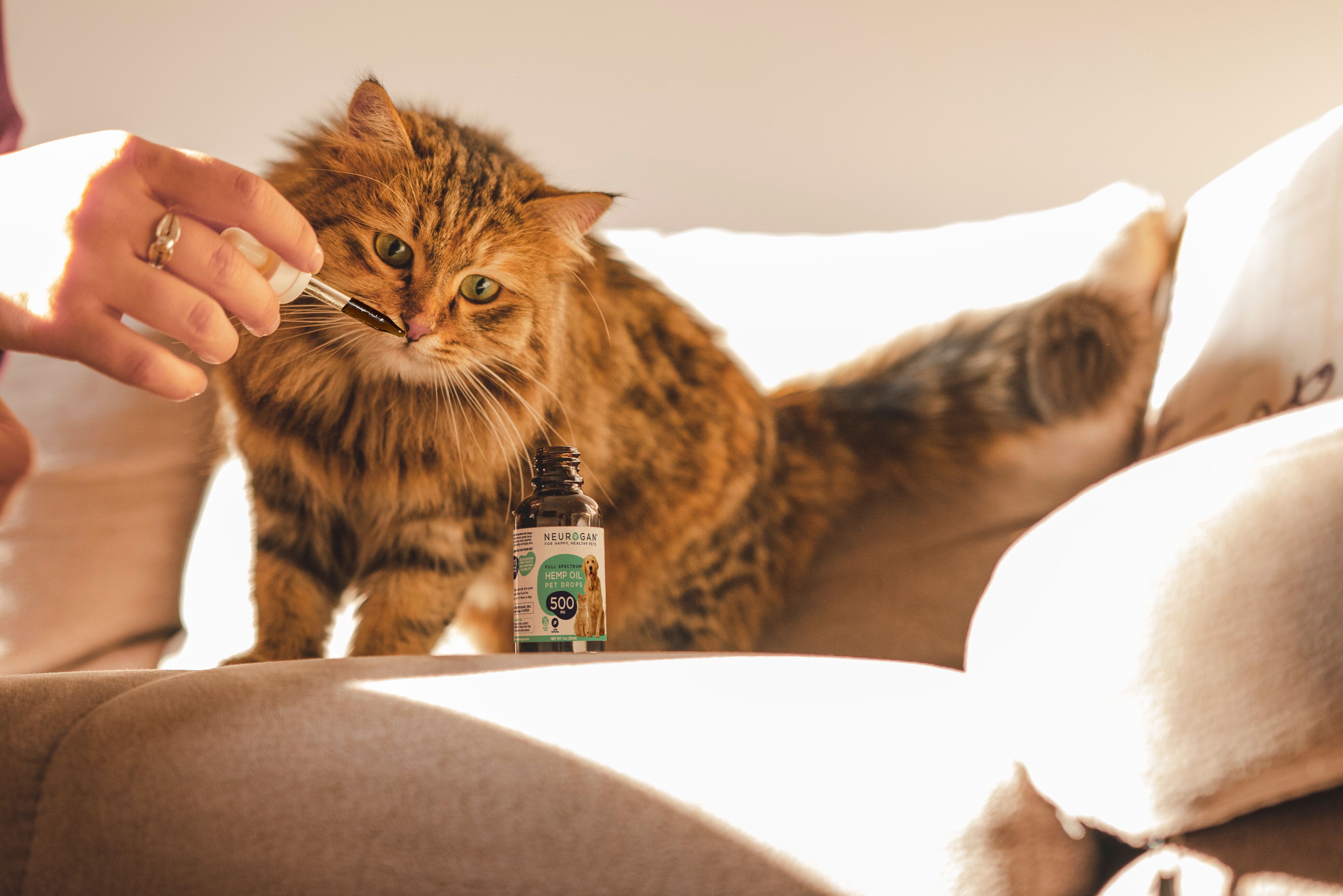 How Does CBD Work for Cats?
CBD's ability to support our furry friends (& us, too!) comes down to one complex system within the bodies of all mammals, the Endocannabinoid System (ECS): a system which serves as one of the body's largest neurotransmitter networks.
The ECS is comparable to an old-school virus scanner that you'd run on your computer, designed to scan the system and correct errors. However, when the ECS finds a problem, it regulates by sending further instructions to receptors to help support balance.
For cats who suffer from common stress behaviors such as hiding, aggression, or obsessive grooming, CBD's interaction with the ECS can help to support a balanced mood. In fact, products containing CBD may help to support aches, a normal digestive process, healthy inflammatory function, and a calm and relaxed mood. If you're hoping to support your cat's quality of life, it's worth looking into CBD for the cats' benefit.
CBD Benefits for Cats
CBD works wonders for cats! Products containing CBD have become widely popularized to help support pets through visits to the vet, long car rides, the groomer, or simply old age. Animals both young and old can reap the benefits of CBD, with ingredients that help to support:
Physical and mental well-being
A sense of relaxation
Normal inflammatory function
Healthy mobility and joint function
CBD dosage for cats
How much CBD to give your cat is determined by their size as well as the product you're using. If you're wondering how much CBD oil to give cats, know that they tend to be more sensitive to CBD than dogs and they'll require a lesser dose.
Give your cat 1-5mg average dose of CBD per 10lbs of body weight or check out our helpful dosage chart for Neurogan CBD pet oil, below.
Pay attention to your cat's temperament and mood and adjust your dosage accordingly. You should see a change in your cat's behavior within an hour. If not, you may want to give your cat a little bit more CBD oil and continue to keep a close eye on them.
With the right dose, your feline friend won't feel lethargic, just visibly more calm.
How do I give CBD oil to my cat?
Many pet-owners have expressed their concerns about how to give CBD to cats. Cats are generally known to be more picky than dogs, which can bring on its own unique set of challenges when dispensing CBD oil to them. Sometimes a cat's particularities can cause administering CBD oil to be a difficult process, so we'll offer a few tricks our customers have shared with us on the best ways to give cats CBD oil.
How to:
Add to food and treats.
Squeeze directly into your pet's mouth
Tip #1
If you have a curious cat, hold the CBD oil dropper up and allow them to lick while you squeeze the dropper. Clean the dropper before placing it back inside the bottle.
Tip #2
Dabble some CBD oil on your cat's paw. Your cat will likely scurry off and proceed to clean their paw, mission complete!
Tip #3
CBD oil is known to work much quicker when administered on its own. Before feeding your cat, add a few drops of CBD to your cat's empty food bowl for quick effect.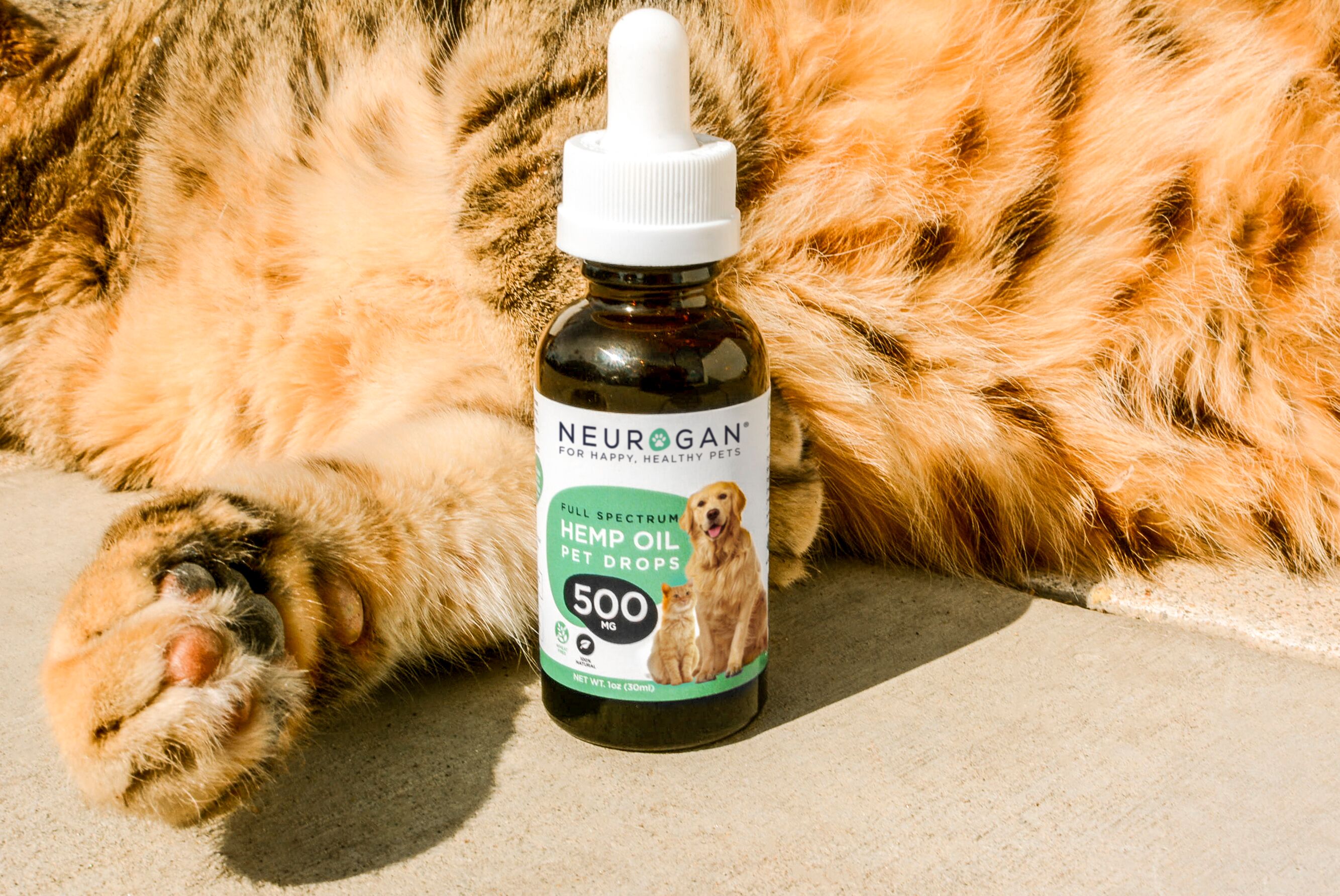 What kind of CBD oil is good for cats?
Cats are known to have sensitive stomachs, so buying a high-quality oil is key to your cat reacting positively to CBD. Here's what to check for when purchasing CBD for cats:
CBD Oil For Pets
Make sure you're purchasing a CBD oil that is created for pets. CBD oils for humans usually have an added flavor component that could be displeasing to your cat's stomach or taste buds.
Third-Party Lab Tested
Check all lab results before purchasing a CBD product. Lab results help you to verify that you're purchasing a real CBD product. Learn more on how to read lab results, here.
CO2 Extracted
After hemp is cultivated and dried, it's extracted. Extraction is when CBD is drawn from the hemp itself and in order to do so, companies sometimes use toxic solvents that can find their way into your tincture. For the sake of your cat's sensitive tummy, invest in a CBD that is CO2 extracted, the cleanest extraction method on the market.
Common Questions for Cats & CBD
Is CBD safe for cats?
Yes, in the right dosages, CBD is safe for cats. However, it's important to do your research when choosing a CBD for cats because they're known to have particularly sensitive stomachs. To best cater to your cat's needs, be sure to request lab results before purchasing pet CBD.
Can I give CBD oil to cats on empty stomach?
CBD oil has the quickest and strongest effect when administered on its own, so either give your cat CBD 15 minutes before eating, or at least 15 minutes after eating. If your cat is picky and will not go for CBD on its own, add to their food or a treat. Be mindful of your initial CBD dosage if your cat is known to have a sensitive stomach.
In Conclusion
We hope all the cat-lovers out there have enjoyed our guide on how to give CBD to cats. Remember, though it might be tough to get your kitty to comply when it comes to giving them CBD, chances are it will greatly improve their quality of life!
Our question to you:
We want to know, what have you found is the best way to give CBD to your cat?
Please reach out to us if you have any further questions and we'll be happy to speak with you.
[file:test.pdf]