How to Give CBD to Your Dog in 3 Easy Ways
Date 24th Oct 2019
By now, you're hopefully on the CBD train and fully aware of all the advantages CBD can have for both pets and humans.
However, figuring out how to get your dog to take CBD oil can be a lot more difficult compared to adding it to your own wellness regimen. As every pet is different, learning how to administer CBD oil to your dog requires special techniques and different types of CBD goodies in order to make the process easier.
In this guide, we'll walk you through how to give CBD to your dog in 3 easy steps with bonus tips along the way for a stress-free and easy experience.
How to Give CBD to Your Dog
1. Use CBD Treats formulated for dogs
The natural earthy taste of hemp could throw off some picky eaters. So, the easiest way to give CBD to your dog is to give them hemp chews that are already infused with CBD. Dogs are accustomed to lots and lots of treats so it won't take them by surprise and contains ingredients that naturally mask hemp's flavor.
Be sure to check the ingredients on the hemp treats you buy and to make sure they are high-quality and natural. One way to check is to make sure you can pronounce all of the ingredients within the treats.
How to:
Reward your furry friend with a CBD-infused treat.
Crush up treats and add to your pet's daily meal.
CBD Dog chews dosage:
2. Mix CBD Oil with treats & food
If you've got a bonafide bowl-cleaner on your hands, adding CBD to their food or treats is a great method for how to give CBD to your dog because highly food motivated pooches have no problem licking the bowl clean with a few drops of CBD added.
Fortunately, the flavor of the CBD will be masked by the texture and taste of their dog food or treats, hopefully making it a no-fuss transaction.
How to:
Add to food
Add to treats

Tip: Use three pieces of deli meat. Feed your pet the first piece, follow it with a piece that has CBD oil on it, and finish with the last plain piece.
CBD pet oil Dosage:
3. Be Direct
If you have a pooch that notices even the slightest change in flavor in their food and treats and won't eat them if you've added CBD, you're going to have to be direct. This method is typically the most difficult and might make you feel like you're invading your dog's space, but simply hold their mouth open with one hand and administer CBD oil to your dog with the other.
Studies have shown that taking CBD sublingually (under the tongue) allows the compounds within the oil to enter the bloodstream at a faster rate for quick effect. Therefore, if your dog is experiencing an issue that it may need immediate comfort from, direct administration of CBD oil could be the best method. However, this method is sometimes a bit more tricky to administer to picky or hyperactive pooches.
How to:
Squeeze directly into your pet's mouth.

Tip: Open your dog's mouth with one arm while administering the CBD oil into their mouth with the other hand.
Tip: Get your dog to sit and scratch under their chin, as their head raises, carefully add the oil to their mouth.
Tip: Follow the experience with a treat and a whole lot of praise to make it a positive experience.
---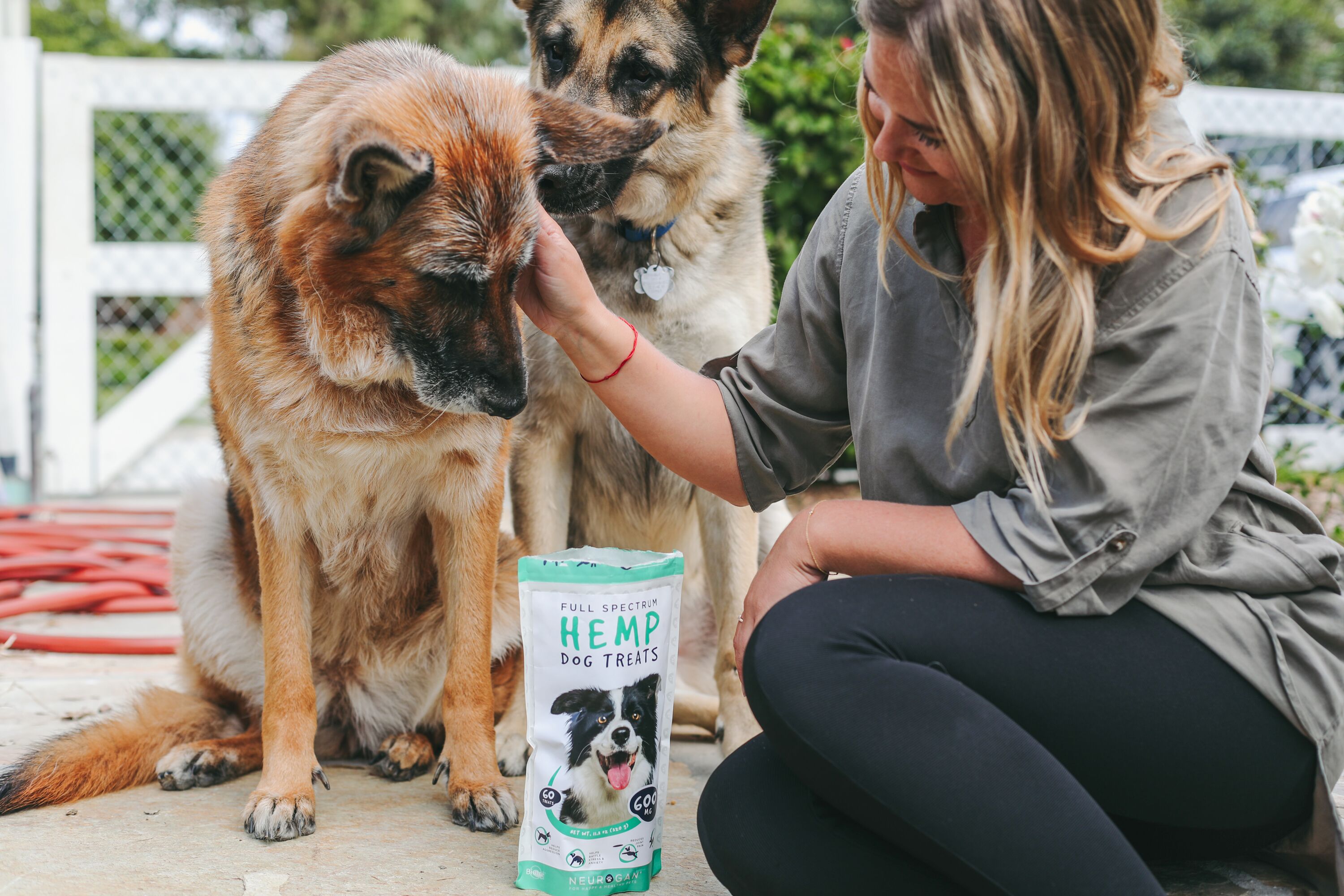 In Conclusion
With these helpful tips, you've got the tools you need to figure out how to give CBD to your dog in a way that suits them best. Don't forget that at the end of the day, you're giving your dog CBD because you love them. There will be times as you introduce CBD to your dog's routine that it might feel like pulling teeth, but on the other side of consistent CBD dosage is a happier and healthier pet - be patient!
Here's how to give CBD to your dog: Give CBD oil to your dog by purchasing dog treats formulated with CBD, mix CBD oil with treats and food, or be direct by propping your dog's mouth open with one hand while delivering the CBD with the other.
Our question to you:
We want to know, what have you found is the best way to give CBD to your dog?
Please reach out to us with all of your CBD related questions and we'll be happy to help.